Our Services
Physiotherapy
Our physiotherapists are graduates of the University of Sydney. They are highly experienced in orthopaedic and sports physiotherapy and provide teaching and training to other physiotherapists.
All share an enthusiasm for active rehabilitation and will provide an accurate diagnosis and comprehensive treatment program.
We will tell you what's wrong, what needs to be done to fix it and how long that is going to take.
Radial Shockwave Therapy
We are one of the few clinics in North Western Sydney with a radial shockwave unit. Radial Shockwave Therapy (also known as Extracorporeal Shockwave Therapy) is an effective, non-invasive solution to pain associated with musculoskeletal disorders.
It involves the application of a series of high-energy pneumatic percussions to the area being treated. These shockwaves travel through the target tissue, mechanically stimulating it to encourage cellular activity and kick starts healing.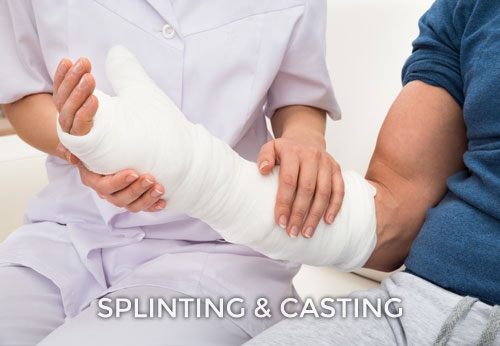 Splinting & Casting
Our experienced physiotherapists are skilled in fibreglass casting and fabrication of thermoplastic splints. We provide waterproof casting that allows the injured body part to get wet, unlike traditional plaster casts.
Our lightweight wrist and hand splints can be removed for exercises and are re-mouldable. We also use Exo fracture braces, which combine the support of a cast with the functionality of a splint, but can only be used for specific injuries.
Braces
We provide a range of orthopaedic braces, used following surgery or after traumatic injury to aid mobility and rehabilitation. Our functional ankle, knee, wrist and elbow braces, provide support during recovery and protection during return to sport and activity.