Courses for Physios
Comprehensive theory and practical courses designed to teach you skills to incorporate into clinical practice.
Essential Foot and Ankle - 20th May 2018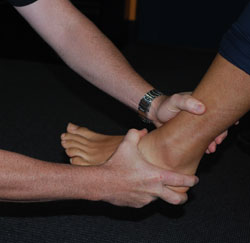 Presented by Matthew Stewart. Specialist Sports Physiotherapist,
Matthew has over 20 years experience as an expert orthopaedic and sports physiotherapist and has presented extensively throughout Australia and at International conferences.
This course covers: functional anatomy of foot and ankle, fundamentals of clinical diagnosis, recognising common pathologies of the ankle, hind foot and mid foot, taping, manual therapy, neurodynamics and functional rehabilitation.
Aimed to improve clinical diagnostic and treatment skills, that can be implemented with your patients straight away.
Coming Soon
Essential Knee